Do you owe money to Bristow and Sutor?
If you have debts of over £5000, you may be able to write off your debt with an IVA
Who are Bristow and Sutor?
Bristow and Sutor are an enforcement agency that specialises in providing debt collection services for local authorities, for matters such as unpaid council tax. They are based in Redditch, Worcestershire, UK and have been in business since 1977.
The business directly employs bailiffs to collect on council tax and other debts, which they believe gives them an edge. They are members of numerous professional bodies such as IRRV, CIVEA and BPA. They use state of the art technology to keep up to date with their clients and everybody who owes them money.
If Bristow and Sutor are chasing you for unpaid council tax, it can be a frightening experience, especially if you are struggling with financial issues. For support, you can contact us on 0330 122 8447 or click 'Get Started For Free'.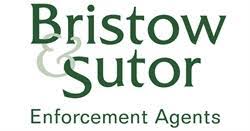 What debts do Bristow and Sutor collect?
Bristow and Sutor specialise in collecting the following four types of debts for local authorities:
Penalty charge notices (PCNs) – for example, vehicle parking fines
Council tax
Non-domestic rates (business rates)
Sundry debt including tenant rent arrears and overpaid housing benefit. A company called Credit Security may collect this on behalf of Bristow and Sutor.
If you've received a phone call, a debt notice letter or even a visit from Bristow and Sutor enforcement agents, do not ignore their communications, or the situation may escalate. Council tax and business rates debts are particularly serious in nature, and at an extreme, if you do not pay them, you can end up in prison.
Instead, contact us by clicking 'Get Started For Free'. We have years of experience of dealing with debt recovery businesses like Bristow and Sutor. We know the tactics they use and your rights. We'll connect you with free debt advice and we may be able to deal with the debt collection process for you.
Is Bristow and Sutor legit?
Yes, Bristow and Sutor are a legitimate company specialising in collecting debts such as unpaid council tax. The business is registered in England and Wales. You will find a register for them on the Companies House website with the following details:
Registration Number: 01431688
Registered Office Address: Bartleet Road, Washford, Redditch, Worcestershire, B98 0FL
Why have Bristow and Sutor contacted me?
By the time you hear from these debt collectors, you should have already received communications from the Council. You are likely to have received notice that your unpaid council tax or non domestic rates have escalated to a Magistrates Court, which has legally decided that you owe this money, and then issued a liability order.
In the case of traffic penalities, by the time Bristow and Sutor take the case, the Traffic Enforcement Centre, which is a part of the County Court, will have issued a warrant of control.
By the time you hear from these debt collectors, your debt is already at a serious stage of the collection proceedings. If you need support in dealing with this agency and other creditors, do not delay in contacting our team at IVA Online for support. You can reach us on 0330 122 8447 or by clicking 'Get Started For Free'.
What if I don't owe money to Bristow and Sutor?
Bristow and Sutor may pursue individuals for debts that belong to other people, for example, a previous resident of your address with unpaid council tax obligations. In these circumstances, it is best to contact Bristow and Sutor immediately, before the case escalates and they send bailiffs (enforcement agents).
Bristow and Sutor may ask you to provide ID to prove that you are not the person who owes them money, before they will remove your address from their debt recovery process. Non-payment of council tax debt can have severe consequences, so it's essential to contact them about the removal of your details as soon as possible.
How should I contact Bristow and Sutor?
These are the best contact details to reach Bristow and Sutor:
Free Phone Number: None listed
Phone Number: 0871 677 0070 (calls cost 9p per minute plus your phone operator's fee)
WhatsApp: 07860 078 251
Text Message: 07781 488270
Contact Form: www.bristowsutor.co.uk/pay/debtor-contact/
Post: Bristow and Sutor, Bartleet Road, Washford, Redditch, Worcestershire, B98 0FL
Is there a Bristow & Sutor free phone number?
No. Calls to Bristow and Sutor costs 9p per minute, plus the fee your mobile operator charges. Their number is 0871 677 0070. However, you can also contact the company via cheaper methods such as post and WhatsApp. If you need to repay a council tax debt, you can do so online on their website or through the Bristow and Sutor App.
How can I stop Bristow and Sutor?
If Bristow and Sutor are chasing you for council tax debt, generally the only occasions they will stop are:
If you repay your debt in full, so they can repay the council
If you have a repayment plan in place that they are happy with and you have a good history of paying on time
If you are working with a debt management company who deals with them and others that you owe money to, effectively on your behalf.
At IVA Online, we do our best to support anyone who is facing issues with debt, through our free content, posts and calls. Click 'Get Started For Free' to connect with one of our advisors today.
How can I repay my debt with Bristow and Sutor?
First check that the money that Bristow and Sutor are chasing for you is for an amount and from a business that you recognise, for example, check that it relates to your council tax bill or your parking contraventions. The quickest way to stop the debt recovery process is to pay your debt in full or to agree a debt repayment plan with the debt collection agency.
Bristow and Sutor accept payments in the following ways:
Online payments
Payments over the phone
Debit card
Credit card
Standing order
Bank transfer
Pingit
Cash
Direct debit
PayPoint
If you have debts with more than one organisation, including debt collectors, and are finding the repayments are not affordable for you and your family, you can click 'Get Started For Free' to see what options are available to you.
We understand how frightening it can be when you feel like your financial situation is out of control, and we are here to help. We love to hear from all the people we have supported to turn their lives around over the years.
How will Bristow and Sutor chase me for my debt?
The Bristow and Sutor debt collection process follows three stages:
1. Compliance Stage
Bristow and Sutor will send you a letter called a Compliance Notice that gives you seven days to make arrangements to pay the money that you owe in full. The message contains a warning of the steps that will follow if you don't stay on track with paying your debt.
2. Enforcement Stage
If debtors do not pay their debt at stage one, Bristow and Sutor issue an enforcement notice known as a Notice of Civil Enforcement, explaining that enforcement agents (bailiffs) are preparing to visit.
3. Sale or Disposal Stage
The third step involves Bristow and Sutor bailiffs visiting you and asking you to sign a controlled goods agreement, which gives them the powers to seize specific items of your possessions if you don't meet the terms to repay your debt. If the debt belongs to a business, they will visit the business premises to conduct the same exercise, and they will take an inventory of the property owned by the business, such as equipment.
During visits to list your items, the bailiff will complete a valuation exercise to estimate how many items will result in sufficient sales to repay your council tax, business rates etc.
Where the business or individual fails to meet the terms of the payment arrangement, Bristow and Sutor enforcement agents will organise for their assets to be at public auction. The bailiff will use the proceeds from the sale to repay the council tax, housing benefits overpayments, business rates or tenant arrears that you owe.
If you find yourself in this debt collection process, get in touch with our team of experts as soon as possible. An advisor will equip you with the information you need in relation to your financial issues.
Can Bristow and Sutor force entry?
Bristow and Sutor bailiffs may visit your home following court action to collect on your debts such as unpaid council tax. For example, they may send enforcement agents following the court granting a County Court Judgment to force you to take legal responsibility for your debt.
Their enforcement agents have the power to force entry to collect or inspect goods that are subject to a controlled goods agreement (CGA). A controlled goods agreement is a legal agreement that you sign with enforcement agents giving them control over goods and possessions to the value of your debt, plus any fees, charges and interest. If you then fail to make the repayments that you agree with the enforcement agents, under the controlled goods agreement, they have the right to seize your possessions and then sell them at public auction.
In typical circumstances if Bristow and Sutor bailiffs 'force entry' it would involve entering through an open door or window, or using the services of a locksmith.
There are also certain goods that debt collection agencies are not allowed to seize, including:
Possessions at your property that do not belong to you. The debt collectors may ask you to prove this – for example, if you have an item on a finance agreement or an object that belongs to a friend.
Up to £1,350 of items that are essential to your job or your studies
Beds and bedding for each resident
Essential kitchen appliances
Medical equipments
Items essential to caring for your children
Table with enough chairs for each resident
One phone
Transportation vehicles for blue badge holders
Pets and guide dogs
If a bailiff has been listing your possessions for a controlled goods agreement, ask to check that they have not listed something that they should not have. Where possible, show evidence on the spot for why that item should not be taken and sold.
Can Bristow and Sutor take cars?
Yes, enforcement agencies such as Bristow and Sutor can take vehicles that you own to repay outstanding council tax, business rates and other debts. They can not take cars that have finance outstanding to another business, or seize a vehicle that belongs to a disabled blue badge holder or one that is owned by someone who is not the debtor. You may be able to keep a car of low value (£1,350 or below) that is essential to your work.
Please note that debt collectors can seize items from outside of your property when they visit, so be mindful of any possessions that you leave outside during debt collection proceedings, especially if those items do not belong to you.
What if I can't afford to repay my council tax or business rates debt with Bristow and Sutor?
If you don't have the money to pay off your council tax or other debt with Bristow and Sutor as a lump sum, then you can see if they will accept a repayment plan that is affordable for you. The worse thing you can do is go silent because they may escalate your case to the High Court and apply for a County Court Judgment (CCJ), following which you could receive a visit from their bailiffs. Once they or the local councils have started insolvency proceedings, it becomes more challenging to get your business or your life back on track, and you have fewer options.
If you owe money to multiple creditors, then you could consider an IVA. IVAs enable you to consolidate your debt for each organisation into one affordable monthly payment, based on your income and essential expenditure, that you typically pay for five years. In addition, your Insolvency Practitioner will deal with Bristow and Sutor and other creditors on your behalf, which will ease the pressure on you. They can use their authority to try to stop the companies sending bailiffs while you work through the IVA request.
To find out if an IVA is a possible solution for you, click 'Get Started For Free' in the table of contents for this site or telephone us on 0330 122 8447. Our experienced team members will be happy to answer your questions.
Where can I get free support with my debt?
Numerous organisations provide guidance when dealing with collection agencies, such as The Money Advice Service. However, it can be challenging to know who to trust.
At IVA Online, we work with my clients who are being chased by Bristow and Sutor for council tax debts, and we deal with the debt collector on their behalf whenever possible. We understand the regulations that apply to the industry and the rights that adults who are in debt have. We pride ourselves on the amount of cases where we have helped people to get their lives back on track after debt problems.
Contact us for free support by clicking 'Get Started For Free' in the top right-hand side of the website.
How can I complain about Bristow and Sutor?
If you believe that Bristow and Sutor have not treated you fairly while collecting your council tax, business rates, or other debt, then help is available to you. In the first instance, you should contact them directly and explain what the problem is.
You can complain in the following ways:
If you are unhappy with the final response that you receive from the business, then you can send a copy of your complaint to the Credit Services Association (CSA). To complain to the CSA, you should complete the complaint form on their website and send it by email to complaints@csa-uk.com.
Can Bristow and Sutor send me to jail?
If you owe money in the form of consumer debts like credit cards and loans, you are generally not at risk of being sent to prison. However, for certain types of debt, including council tax, business rates and criminal fines, the law allows imprisonment as a very last resort.
As a first step, your creditor would apply for a liability order so they can send an enforcement agent and take further legal action, such as a 'deduction of earnings order', where they have the ability to take part of what you owe from your wages each time your employer pays you.
If you are worried about debt linked to council tax or business rates, or in doubt about your options, then click on the link to 'Get Started For Free'. Don't takes chances with this type of debt.
What fees do they charge?
Debt collectors have the power to add fees and charges that in alignment with a piece of legislation called the Taking Control of Goods (Fees) Regulations 2014.
They charge three main fees:
Compliance fee of £75 for taking on your case
Enforcement fee of £235, plus 7.5% of any amount over £1,500 once they pay you a visit
A fee of £110, plus 7.5% of the value of debts above £1,500 for visits to remove goods that are subject to a controlled goods order
Debt collection agencies may also add fees for the following activities:
Help from a locksmith to enter your property
Storage costs before goods they seize from you can be sold at auction
Costs associated with the auction.
Is there a way to write off my debts?
Yes. If you owe more than £5,000 to two or more creditors, it may be possible to write off a proportion of your debt through an Individual Voluntary Arrangement (IVA). In this arrangement, you will work with an Insolvency Practitioner to calculate an affordable monthly repayment based on your income and essential spending. You will typically make this payment for five years, after which stage, the creditors will agree to write off anything else that you owe.
The Insolvency Practitioner (IP) will then take this IVA request to your creditors for agreement. The IP will need to convince them that this is the best way for them to recover at least some of the money you owe them.
To find out more about IVAs and see if you qualify, click 'Get Started For Free' or call us on 0330 122 8447. We look forward to helping you.
LOOKING FOR HELP?
Get debt help with Bristow & Sutor now!