Do you owe money to Marston Holdings?
If you have debts of over £5000, you may be able to write off your debt with an IVA
Who are Marston Holdings?
Marston Holdings is the trading name of Marston Holdings Limited, one of the largest transportation and debt enforcement agencies in the UK. They have over one hundred years of High Court experience. Marston holdings process in excess of 1.5 million cases per year, which amounts to recovering around £850 million of debt.
If you have received contact from Marston Holdings about money that you owe them, don't delay and allow their recovery process to escalate. You can connect with free advice about your debts by clicking 'Get Started For Free'.
Are Marston Holdings legitimate?
Marston Holdings Limited is a legitimate company that is registered in England and Wales with the following details:
Company Number: 04305487
Registered Office Address: Rutland House, 8th Floor, 148 Edmund Street, Birmingham B3 2JR
What clients do Marston Holdings collect debts for?
Marston Group collect debts for a range of organisations including:
Local authorities
Central government
Solicitors
Debt collection firms
Utilities companies
Credit controllers at various companies
What can Marston Holdings do?
Marston Holdings have the following rights when pursuing you for a debt:
They can contact you on phone numbers that they believe you can be reached at
They can send letters and visit you at your home address
They can take you to court if you fail to respond to their communications and to agree to a repayment plan for your debts
Marstons bailiffs can visit you following court action.
Marston Group follow the following debt collection process through the High Court:
1. Compliance stage
They send a notice of enforcement giving you seven days to repay your debt in full.
2. First enforcement stage
They will send enforcement agents to obtain payment or to take control of your assets to the value of the money that you owe. They may agree a settlement offer after reviewing the value of your possessions. You can also propose an instalment plan that is affordable based on your income and expenditure.
3. Second enforcement stage
If you do not meet the terms of the Control of Goods Agreement, Marston bailiffs may take your possessions and sell them at a public auction to repay your debts.
4. Sale and disposal stage
Marston will give you seven days' notice of the sale of your assets. They will confirm the amount they raised through the sale of these items and whether it has repaid your debts.
Should I contact Marston Holdings?
If Marston Holdings contact you about a debt, generally the worst thing you can do is bury your head in the sand and ignore them, or their actions will escalate.
If you'd like our support to deal with Marston Holdings and their enforcement agents, you can contact our team by clicking 'Get Started For Free'.
If you are comfortable dealing with them directly, you can contact the business in the following ways:
By post: Embassy House, 60 Church Street, Birmingham B3 2DJ
Email: post@marstongroup.co.uk
Phone number: 0333 320 2540
Should I pay Marston Holdings?
Often by the time Marston are involved, the court has already granted a court order for the debt in question, so there is limited time before Marston Group will escalate their action and use their powers to send bailiffs.
If you recognise that the debt or debts are your own, the quickest way to get rid of Marston Holdings is to pay off your accounts in full or to offer a payment plan.
If you'd like free information or our support to deal with Marston Holdings, click 'Get Started For Free'.
What if Marston are chasing the wrong person?
Marston tracks its debtors through a sophisticated database. Sometimes they may search for someone who owes them money at an address they no longer live at. If they track someone to your address incorrectly, it's vital that you let them know immediately, so they don't send bailiffs to access your property.
Do Marston take vehicles?
If you own a car that does not have financing arrangements with another lender, then Marston may try to take it under a Control of Goods Order. You may be allowed to keep a car of low value if its presence is essential to your work.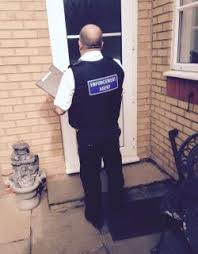 Can Marston Holdings force entry?
If you have signed a Control of Goods Agreement and not met the payment terms you agreed, then bailiffs can enter your property through reasonable means to recover the items. 'Reasonable means' typically involves using the services of a locksmith, and not breaking down your door.
How can I stop Marston bailiffs?
Marstons are concerned with recovering as many of your debts as possible for their client. You can stop them at any time by repaying your debts in full, or asking for them to agree to a repayment plan.
Alternatively, you can reach one of our customer care agents on 0330 122 8447 to see if we can deal with the business on your behalf.
Are Marstons High Court enforcement agents?
Yes they are authorised High Court Enforcement Officers. Marston Holdings are one of the biggest judicial service providers in the United Kingdom. They collect a range of debts for the government, local authority clients and businesses – including unpaid council tax, parking fines and credit cards – through their network of over 1,000 enforcement agents.
They adhere to the legislation set out by the Ministry of Justice under the Tribunals, Courts and Enforcement Act 2007.
Where do I send a complaint about Marston Holdings?
Marston Group have an established complaint handling process. In the first instance, contact them in one of the following ways:
Website: complete the online complaint form
Email address: complaints@marstonholdings.co.uk
Registered Office: Rutland House, 8th Floor, 148 Edmund Street, Birmingham B3 2JR
Can Marston Holdings force me into bankruptcy?
If you fail to repay your debt and the charges from Marston Group, then you could face bankruptcy if Marston believe this is the only way to recover your debts.
People in debt often think there isn't anything they can do to avoid this, but with the right advisor, you'll soon see that there are other options available. You can connect with us in two ways:
Click 'Get Started For Free' and someone from our team will be in touch.
Call us on 0330 122 8447.
We understand the tactics that bailiff companies like Marston Group use when collecting debts, and we are happy to give you the information you need to understand your options to stop Marston Holdings.
Will Marston Group damage my credit rating?
According to the Marston website, they do not pass on any information to credit reference agencies. However, by the time they take on your case, their client may have already issued a default notice on your account, or secured a CCJ, which will negatively affect your credit rating.
Their site contains a lot of useful FAQ posts. You may have to accept a message about cookies to access it, but you don't need a password.
Where can I get free debt advice?
There are numerous consumer debt advice organisations that provide debt help to individuals who are facing arrears on their debt payments.
However, it can be challenging to know who to trust when you are in this difficult situation, which is why at IVA Online we go out of our way to support people who are dealing with debt collection processes.
How can IVA Online help me?
At IVA Online, our employees work hard to find our customers the best possible solution to their financial issues so they can turn their life around. We do not have an affiliation with any specific debt management businesses, which means we can look across the whole of the market to find the option that sees you repaying the minimum amount possible.
You can reach our experts by calling 0330 122 8447 or by completing the short form you'll find on our website called 'Get Started For Free.' We may be able to deal with the debt collectors for you and can answer any questions.
Do Marston Group collect employment tribunal awards?
Yes, Marston Group offer this service through the Burlington Group.
LOOKING FOR HELP?
Get debt help with Marston Holdings now!