Do you owe money to PRA Group?
If you have debts of over £5000, you may be able to write off your debt with an IVA
Who is PRA Group UK?
PRA Group is the trading name of PRA Group (UK) Limited, who describe themselves as one of the largest debt collectors in the UK. They are a subsidiary of a larger group of companies called PRA Group, Inc which operates across America and Europe. PRA Group, Inc started in 1996 and trades publicly on the Nasdaq (PRAA).
PRA Group pride themselves on acting ethically. They state on their website that they will only purchase debt from a reputable company, and they would never force someone to pay their debt balance if they were not able to afford it.
Although they share the same initials, PRA Group is not associated with the Prudential Regulatory Authority.
If these debt collectors have contacted you, then do not hesitate to reach out to our team at IVA Online for support. We connect people who are in debt with free debt advice. Call us on 0330 122 8447 or click 'Get Started For Free'.
What companies use PRA group?
PRA Group buy debts from high street providers, such as banks, including:
Why are PRA Group calling me?
If you've received phone calls, a text message or a letter from PRA Group UK Limited then it is likely because they have bought your debt from another company that you owe money to. They are now contacting you to arrange its payment. Perhaps you have broken the terms and conditions of a credit agreement, and PRA Group have now bought a debt portfolio that contains your account.
Do not ignore their communications because your situation will only escalate. If you would appreciate free debt advice you can reach our team by clicking 'Get Started For Free'.
Are PRA Group a real company?
Yes PRA Group UK Limited is a genuine company that you can find details of at Companies House:
Company Number: 04267803
Registered Office Address: Wells House, 15-17 Elmfield Road, Bromley, Kent, BR1 1LT.
They are authorised and regulated by the Financial Conduct Authority.
Should I contact PRA Group?
The worst thing you can do is to take no action. If you recognise the debt that PRA Group UK Limited are chasing you for then the quickest way to stop them contacting you is to repay your debt in full, if you have the funds, or to agree a repayment plan.
If you have debts with multiple creditors that are no longer affordable, then you can contact us for support by clicking 'Get Started For Free'. We may be able to deal with the debt collectors on your behalf.
How do I contact PRA Group?
The best contact information for PRA Group is:
Email: enquiries@pragroup.co.uk
Telephone: 0800 877 2772
Text message: 07860 094994
Post: 2 The Cross, Kilmarnock, Scotland, KA1 1LR
Will PRA Group add interest to my debt balance?
PRA Group state on their website that they do not add interest to the money that their debtors owe. It's possible that you could incur charges if, as a last resort, they take you to court. For example, if they asked the court for a 'warrant of control', which would allow them to send a bailiff to your property.
PRA Group are chasing me for someone else's debt
In this case, it's vital to contact PRA Group debt collection immediately. It's not uncommon for people to receive debt letters or a visit from a bailiff in relation to a debt from a previous resident, or even a family member that has given a false address.
It's essential to inform PRA Group about the situation. They may ask you to supply ID and proof of your address before they will agree to remove your details from their debt collection database.
Should I pay PRA Group the money they are chasing me for?
If you recognise the debt that they are chasing you for and you know the amount is correct, then the quickest way to get rid of a debt collection agency is to pay them.
However, not everyone has the money to do this. Another option is to ask the collectors to agree to a payment plan for a monthly amount that is affordable for you.
If you are in debt collection proceedings with multiple creditors, it can be extremely stressful dealing with them, especially if you can't afford the payment they are asking for. Don't despair; there is always something that you can do.
Click 'Get Started For Free' to connect with a member of our team at IVA Online. We have extensive knowledge and experience of working with the debt collection industry. No matter what your circumstances are, we'll do our best to help you to understand your options and your rights.
How can I make a payment to PRA Group?
If you recognise the debt as yours and have the money to make a payment, you can do so in the following ways:
Create a pragroup.co.uk login at https://mypage.pragroup.co.uk/. Your PRA Group login requires your first initial, last name, date of birth and postcode OR a reference number and password
Debit card
Direct debit
Online bank transfer
Payzone
Post Office payment (as long as they accept Payzone)
Bankers draft, cheque or postal order payable to PRA Group (UK) Ltd
Will PRA group take me to court?
If PRA Group don't hear from you, and you fail to agree a payment plan for your debts, then they may take your case to court. They may ask the court to grant a County Court Judgement (CCJ) to force you to recognise your debt legally and to give them more powers to collect a payment from you.
Unless you pay the County Court Judgement within 30 days of the court issuing it, it will stay on your credit file for six years and impact your ability to secure further credit.
Can PRA Group UK Limited send me to jail?
No. A debt collection company can take you to court, but they can not threaten you with prison because of your debt problems.
Can PRA Group bailiffs force entry?
In most cases, bailiffs are not allowed to enter your property without your agreement. They can force entry using reasonable means if they are collecting for income tax, stamp duty or criminal fines. Reasonable force generally means that they can enter your property through an unlocked door or window, or with the services of a locksmith.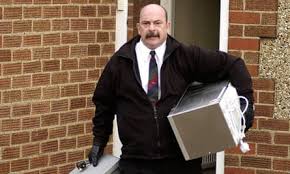 What rights do I have if a PRA Group bailiff visits?
PRA Group debt collection will typically send a bailiff if your debt has escalated to the courts. You should receive notice that they will be visiting, with details of what action you need to take to stop their visit; for example, making contact and agreeing how to repay your debt balance.
If bailiffs visit you have the right to the following:
No visits between 9 pm and 6 am
A right to call the police if you feel physically threatened by a bailiff
A right not to let them enter your property; you can ask them to show you ID through a closed window and to call your telephone line instead.
We help a lot of people who have debt issues to understand their rights under the law, and to find a solution to their debt problem. It can really help to know that someone is on your side. If you're facing issues with PRA Group, or other debt collectors, click 'Get Started For Free' to get in touch with us.
How do I stop PRA group calls?
The quickest ways to stop calls from PRA Group include:
Repaying your debt in full
Agreeing a debt repayment plan
Agreeing on a settlement figure for your debt, if you can convince them to accept a part payment
Securing a debt management company to handle your affairs and deal with the debt collectors directly, for example, through an Individual Voluntary Arrangement (IVA).
If you'd like our support to deal with PRA Group UK, click 'Get Started For Free', and fill in a very short form to help us to find the best solution for you.
What reputation do PRA Group debt collection have?
At the time of writing, PRA UK have an average score of 3.6, from only four reviews on the independent customer review site, Trustpilot. The three positive comments state that PRA Group are understanding and the one negative comment claims they are incompetent and have been harassing him with calls. Making frequent phone calls to a debtor is one of the commons tactics that debt collection agencies use to improve their chances of recovering money and making a profit on their debt accounts.
Who regulates PRA Group?
PRA Group are authorised and regulated by the Financial Conduct Authority.
What can I do if I have a complaint about PRA Group Debt Collection?
It's a sad fact that many people who approach us for support have experienced poor treatment during a collections process.
In the first instance, you should raise any concerns or complaints directly with PRA Group debt collection through one of the following touchpoints:
Write a letter: 2 The Cross, Kilmarnock, KA1 1LR
Phone: 0800 877 2772
Email: complaints@pragroup.co.uk
Keep a copy of everything that you send to the company in relation to your debt and your claim. It can also be helpful to note the names of any PRA Group employees that you have dealt with.
What if I'm unhappy with how PRA Group deal with my complaint?
If you are not satisfied with the final response you receive from PRA Group then you can get in touch with the Financial Ombudsman Service (FOS) online at www.financial-ombudsman.org.uk or by calling 0845 0800 1800.
If the FOS are not able to assist you, then you can also approach the Credit Services Association (CSA) by completing the complaint form on their website at www.csa-uk.com.
These bodies review complaints and check that debt recovery companies have followed the appropriate guidelines when dealing with a person with debt issues.
Where can I get free support and debt advice?
At IVA Online, we work with large numbers of people who are facing debt issues and want someone to deal with the lenders on their behalf. We connect them with free guidance and a solution that helps them to repay the minimum amount possible, in a way that is affordable.
We love reading the messages of thanks that we receive from happy clients who we help to take the steps to get their life back on track.
If you'd like our support, click on 'Get Started For Free' in the website navigation.
What if my debt is statute barred?
If a debt is statute barred it means the lender has run out of time to use certain methods to collect repayments. In England and Wales, this limitation period is six years for 'simple contract debts'; like loans, credit cards, catalogue debts and store cards. That means if you have not made a repayment to your debt within six years, or communicated with the creditor about it to admit that you owe them money, or received notice of action through the courts, then it is difficult for them to pursue you for it.
How will PRA Group use my data?
PRA Group are not allowed to discuss the details of your debt with your friends or family, as part of data protection regulations. They can only use your data as part of their debt collection approaches.
You can find out more by reading their privacy policy, which you will find in the table of contents at the bottom of their website homepage.
What is a County Court Judgement (CCJ)?
A County County Court Judgement, also written as County Court Judgment, is a court order that can be registered by courts in England, Wales and Northern Ireland. A CCJ forces a debtor to take legal responsibility for their debt, unless they have substantial grounds to dispute it. Debt collectors like PRA Group, may seek a CCJ if you fail to repay your debt.
If your debt relates to a credit agreement that comes under the regulation of the Consumer Credit Act, then debt companies must send you at least 14 days notice before they take you to court.
Unless you pay the CCJ in full within 30 days, it will stay on your credit report for six years and reduce your chance of securing further credit. This damage to your credit rating will be a challenge if, for example, you want to purchase a home in this period.
Do not let your debt issues escalate to the point that PRA Group debt collection are seeking a County Court Judgement. Click 'Get Started For Free' to connect with our people who are experts in dealing with debt collectors and debt collection processes.
Is there a way to cancel my debts with PRA Group debt collection?
PRA Group debt collection have sophisticated resources that mean they are unlikely to forget about your debt. However, if you are in multiple debt collection processes, with debts of £5,000 or more, we may be able to help you to write off some of your debt with PRA Group debt collectors through an IVA.
Click 'Get Started For Free' and our team will see if we can deal with PRA Group debt collectors on your behalf.
How do PRA Group debt collectors make money?
The business model of debt collection companies like PRA UK Ltd is to buy debt portfolios for much less than their face value, in the hope that they will make a profit during the debt collection process. They use a range of tactics to get their debtors to take their debt obligation seriously and to encourage them to repay as much as possible.
It's often in the nature of debt collection companies to focus on profit, over the needs of a debtor.
Can I apply for an IVA if I owe money with PRA Group debt collection?
IVAs are a means of consolidating your unsecured debts into one place and you will make a single, affordable monthly instalment for a period of five years (typically). At the end of this period, the rest of your debt is effectively written off, so it can be an effective answer to debts that have become unmanageable.
Keep in mind that your creditors must agree to the basis of this arrangement. An Insolvency Practitioner would work with you to help your creditors to see that the IVA is the best way for them to get results.
You can include the following debt items in an IVA:
Overdrafts
An unsecured loan
Credit cards
Store cards
Catalogue debt
And other forms of unsecured debt.
Click 'Get Started For Free' to see if an IVA is a good option for you and to raise any question to our team.
Can PRA Group debt collectors make me bankrupt?
As a last resort, debt collectors can take steps towards your bankruptcy if they believe that is the only way to recover the money that you owe. The debtors who get to this stage are often the ones who think it's their best or only option.
If you communicate with debt collectors, there is often no need for things to escalate to this stage. There are other options such as agreeing a repayment plan with the debt agency, or seeking an insolvency solution such as an IVA.
Are PRA Group legitimate?
Yes. PRA Group are a legitimate debt collection business. If you hear from them, the first step is to check that the debt they are contacting you about is legitimate, that is, money that you owe personally. It's not uncommon to receive communications about debts that relate to tenants or previous occupants.
What does being in debt collection do to my credit report?
Typically by the time you hear from collectors like PRA Group, you've missed several payments, and your original creditor will have registered a default on your credit file, which will negatively impact your credit rating.
To find out the exact status of your credit report, you can contact one or more of the three Credit Reference Agencies (CRAs) in the UK: Experian, Transunion or Equifax. Depending upon the information you request, they may charge you.
Can I trust debt collectors?
The government has worked to tighten up the rules around collection practices in the UK. However, many of these companies still seem to rely on intimidation tactics such as:
High-pressure calls that can be frightening. Some companies pay their employees on a bonus or commission, so they are highly incentivised to chase you.
Automated calling systems, so you receive a high volume of calls from different numbers.
Using a threatening and misleading communication style that leads you to believe they have more powers legally than they actually do. Thankfully it is now illegal for these companies to present documents to you that are forgeries of official court documents.
Sending physically imposing agents and bailiffs to your door as early as 6 am.
What is Aktiv Kapital?
Aktiv Kapital is a debt collection business based in Norway. PRA Group acquired Aktiv Kapital in 2014.
LOOKING FOR HELP?
Get debt help with PRA Group now!