Do you owe money to Robinson Way?
If you have debts of over £5000, you may be able to write off your debt with an IVA
Is Robinson Way a real company?
Yes, Robinson Way are a well-known company of debt collectors, based in Manchester, United Kingdom, that has been in the business for over 40 years. They are an appointed representative of Hoist Finance UK Limited which is authorised and regulated by the Financial Conduct Authority for matters governed by the Consumer Credit Act 1974 (amended 2006)
Robinson Way specialise in working with companies involved with consumer debt, including:
Utilities
Retailers
Banks
Other debt purchasers
They pride themselves on being founding members of the Credit Services Association (CSA). As members of the Lending Standards Board, they must act in compliance with its seven core principles.
But why are Robinson Way contacting me?
If you've received letters, emails, texts, calls or even a visit from Robinson Way agents, don't ignore them. It is likely that you have a debt one of the businesses that they provide debt collection services for, or that they have purchased your debt from another organisation. Perhaps you have violated the terms of a credit agreement or have unpaid utility bills.
Who do Robinson Way collect for?
They are known to collect debt for institutions such as:
Santander
Natwest
PayPal
eBay
Catalogues offering finance or cards
Credit cards businesses
Businesses offering loans
Do not ignore communications from Robinson Way because your debt problems will escalate. Contact our team at IVA Online for support by calling 0330 122 8447 or clicking 'Get Started For Free'.
How do Robinson Way make contact?
They will typically first send you a debt letter that explains the total debt payment they are expecting from you and a list of two or three next steps that you can expect if you don't come to a payment arrangement with them, such as:
One of their agents visiting you at home
A County Court Judgment
Potentially threats of making you bankrupt.
Sadly debt collectors often care little about the needs and lives of their debtors. Their employees often receive a commission for the money they collect, so they place a lot of emphasis on recovering as much money as possible, regardless of the effect it has on the debtor and the rest of their family.
What if I can't afford the full debt payment Robinson have asked for?
If you can't afford to pay your debt in full, you can speak to the debt collectors about setting up a more affordable payment plan.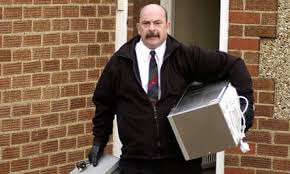 What if Robinson Way are contacting me about a debt that doesn't belong to me?
It's fairly common to receive a debt letter about a debt that relates to a previous tenant at your address or even a family member. It's critical that you get in touch with Robinson Way straight away. They may ask you to provide evidence of your identity before they agree to remove your details from their case file.
Should I contact Robinson Way Limited?
The worst thing you can do is ignore Robinson Way as your debts could escalate and result in legal action. If the debt belongs to you and you have the money to repay it, then the quickest way to get rid of Robinson Way Limited is to make a lump sum payment.
If you owe money to more than two creditors and are struggling to repay it, you can click 'Get Started For Free' for free support.
You can speak to Robinson Way debt collectors about your debt through the following contact details:
Email: contactus@robinson-way.com ( include your reference number and your contact number)
Phone Call: 0800 121 6902
Post: Robinson Way Limited Quays Reach, Carolina Way, Salford, Manchester, M50 2ZY
Website: www.robway.co.uk/self-serve/
Should I pay off my debt with Robinson Way Limited?
A debt collection agency uses sophisticated technology to track how much each of their debtors owes, so it's unlikely that they will forget about the amount you owe them.
The only way to get Robinson Way Limited out of your life is to take one of the following courses of action:
Pay off your entire debt balance including any fees or interest, if you have the money to do so
Agree a debt settlement with them, which involves convincing them to take a lower amount
Agree a repayment arrangement such as a payment plan
Get debt advice to understand your full range of options. For example, if you have debts with multiple creditors and can't afford to pay, then you may qualify for an IVA.
Will Robinson Way Limited add charges to my debt?
It's common for debt collectors to add charges for their debt collection activity; for example, if they take you to court and subsequently send an enforcement agent, also known as a bailiff, to your place of residence. They are likely to add a charge for each visit.
Do Robinson Way take you to court?
Yes. Robinson Way Limited take debt customers to court as a last resort if they do not respond to communications or fail to agree on a payment method for their debt.
Robinson Way Limited may seek a court order to get a County Court Judgement (CCJ), which is a means of getting an individual to take legal responsibility for their debt. If you receive a CCJ for your outstanding debt, you must repay it within 30 days to avoid having it marked on your credit file for the next six years. A CCJ will impact your ability to secure credit, such as a mortgage.
What are my rights when dealing with Robinson?
The government has worked to reduce some of the unsavoury tactics used in the debt collection industry. However, sadly we still hear many cases where individuals experience intimidation from these companies in order to motivate them to make a debt payment.
You have the following rights when faced with debt collectors:
They should only contact you a 'reasonable' number of times about your debt, though this is somewhat open to interpretation.
They can't talk to your friends and family about the specifics of your debt or ask them to make a payment if the debt only belongs to you. This rule is due to data protection regulations in the UK.
Bailiffs can't force entry in most circumstances and can only visit at specific times of day.
The company must communicate with honesty; that is, they can't forge documents to appear like formal court orders to get you to let them in or to make a debt payment.
Are debt collectors allowed to threaten me?
You should not experience bullying, threats, violence, physical or verbal abuse. However, just the standard type of communications from these companies can feel threatening when you are in debt.
Can Robinson Way send me to prison if I don't pay my debt?
Robinson Way Limited have the powers to take cases to the courts if you do not communicate or agree on a debt payment plan, but this is unlikely to result in you going to prison purely because of your debt. They are more likely to seek court orders that increase their chances of receiving your debt payment.
Do not let your debt progress to litigation. Click 'Get Started For Free' to see if we can help guide you.
Do Robinson Way send bailiffs who force entry?
Following court action, Robinson Way Limited could send bailiffs, also known as enforcement agents, to your property to organise payment of your debt account. You have the legal right not to let them into your property, and they can not force entry unless they are collecting specific types of debt such as:
Income tax for HMRC
Stamp duty
Criminal fines
Even if a bailiff has the right to force entry, this typically involves entering your home through an open window or employing the services of a locksmith to gain entry through the door.
Receiving a visit from a bailiff can be a very intimidating experience. They will also likely add collection fees to your debt for every visit they make. You are welcome to contact our team of experts at IVA Online if you receive a visit and we can try to handle Robinson Way Limited on your behalf.
What items will bailiffs take?
If an enforcement agent has a court order or other permission that allows them to seize goods, they will focus on high-value items such as jewellery and electronics that are easy to sell. They are not allowed to take essential items such as bedding, clothing, items necessary for your work up to a specific value, and essential kitchen appliances.
Can they take money directly from my wages?
Debt collectors can take money directly from your job wages if the court grants them a court order called an 'Attachment of Earnings'. Your employer then receives a notification to send them specific payments from your earnings before you receive the money.
Are Robinson Way Limited a legitimate company?
Yes Robinson Way Ltd are legitimate. Their records at Companies House contain the following information:
Company Number: 06976081
Registered Location: England & Wales
Registered Office Address: Carolina Way, Quays Reach, Salford, M50 2ZY
Robinson Way Limited is an appointed representative of Hoist Finance UK Limited, the parent company, which is authorised and regulated by the Financial Conduct Authority (FCA), registration number 716537. Hoist is also known as Hoist Portfolio Holding 2 Limited.
What if I want to make a complaint about Robinson Way?
In the first instance, you should raise any complaints directly with Robinson Way in one of the following ways:
Email: contactus@robinson-way.com
By letter: Complaints Department, Robinson Way Limited, Quays Reach, Salford, Manchester, M50 2ZY
You'll need to include your name, file number, phone number and a message explaining why you have reason to complain.
Please keep a copy of any documents you receive from the company and any letters you send them about your debt.
I'm not happy with how Robinson Way dealt with my complaint
If you do not receive a satisfactory response from Robinson Way Limited about your complaints, you can escalate the issue. You can contact one of the following bodies, depending on the nature of your problem:
Contact the Financial Ombudsman Service (FOS) about issues related to financial products that come under the regulation of the Consumer Credit Act.
Get in touch with the Information Commissioner for complaints regarding the protection of your data.
Make contact with the Credit Services Association (CSA) on matters relating to the CSA Code of Practice for debt collection agencies.
How can I make payments towards my debt with Robinson Way?
Robinson Way Limited accept debt payments through the following methods:
Standing order
Direct debit
Debit card
Credit card
You can make lump-sum debt payments or approach them with a debt repayment plan proposal. To keep on top of your debt account, you can register for an online 'robway' account at www.robway.co.uk/self-serve/register. Your Robinson Way login requires the following information:
Your reference number
Surname
Password
Will Robinson let me pay just a proportion of my debt?
Debt collectors focus on collecting the maximum amount in debt payments as is possible. If you can convince them that accepting a bulk payment for part of your total debt is their best way of recovering some money, then they may accept this. You will have to discuss this proposal with them by phone or by completing a form.
What reputation does Robinson Way have?
At the time of writing, Robinson Way Limited has a poor reputation of 2.7 out of five on Trustpilot, the independent site that hosts customer reviews. The negative feedback includes complaints about the manner the company's staff operate with. Some of the feedback mentions individuals who are in dispute about how much they owe. Others allege that Robinson Way do not operate in line with FCA guidelines, and someone else has complained about the number of times the firm has called them. Frequent calls are a common tactic for debt collectors.
There are a few positive comments where other customers have made a point of sharing positive feedback about staff members who have treated them with respect and fairness.
Where can I get free debt help?
There are a variety of organisations, such as StepChange, who assist people who are in debt, but it can be hard to know who to work with and trust. At IVA Online we've made it our mission to help people who find themselves in a negative situation with debt. No matter the circumstances, we support individuals with escalating debt problems to understand their rights and the law relating to debt.
We have years of expertise in the debt industry and understand the tactics and threats that debt collectors such as Robinson Way use when chasing a debtor.
We work with a variety of debt management companies, which enables us to find the best option for each customer that we work with, which sees them making the lowest repayments necessary to each creditor. You can call us from landlines and mobiles on 0330 122 8447 or click 'Get Started For Free' in our website navigation.
How can I ask a question about my debt?
You can contact Robinson Way in the following ways:
Also, the table of contents online at https://www.robway.co.uk/self-serve/ contains a link to most of the steps you need to manage your debt.
How do Robinson Way make money collecting my debt?
Robinson Way Limited act as a debt purchase company, meaning they often buy debt for pence on the pound. They then seek to make a profit by collecting as much value from your debt as possible. They make money whenever they collect more than they paid for the debt, minus the expenses from their collection process.
They also act as collectors in England and Wales for other companies. Here they will likely receive a cut of the monies that they collect.
Can I get Robinson Way to write off my debt?
Possibly. If you have debts amounting to £5,000 or more across more than one creditor, then you may qualify for an IVA. Your total debt can include overdrafts, credit cards, payday loans, storecards and any other debt that is not secured against your assets. For example, your mortgage debt is typically secured against your home.
You would work with an Insolvency Practitioner to build an IVA Request in writing based on your income and necessary expenditure. The person acting as your Insolvency Practitioner would call a meeting with your creditors and aim to get enough of the parties to agree to the proposal. The conditions of the IVA specify the monthly amount you will repay, typically for a period of five years.
Click 'Get Started For Free' to see if an IVA is a suitable option for you.
Should I consider bankruptcy?
Bankruptcy is one of several options for dealing with debt where the payment has become unaffordable. However, there are other options, such as an Individual Voluntary Arrangement (IVA), which can have some advantages over bankruptcy. For example, with an IVA, you may not have to sell your home or your car.
To find out if an IVA is a suitable debt solution for you, you can click 'Get Started For Free' or call an IVA Online agent on 0330 122 8447.
What is an IVA?
An Individual Voluntary Arrangement (IVA) is a legally binding debt management option whereby your creditors agree for you to repay a proportion of your debt, in the form of affordable monthly instalments for a period that is usually five years. You'll work with an Insolvency Practitioner to calculate what you can afford to pay, and he or she will liaise with your creditors to gain their agreement to the proposal. Creditors will agree to the arrangement if they believe they are more likely to receive more money, than with other courses of action, such as forcing you to become bankrupt.
You can find out more information in our IVA article. To see if you qualify, click 'Get Started For Free'.
Does having debt impact my credit rating?
Each of your debt accounts will appear on your credit report. If you miss a debt payment, then your creditor is likely to register a default notice on your credit report, which will impact your credit rating. Also, if debt collectors take you to court and issue a County Court Judgment (CCJ), this stays on your report for six years unless you repay your debt in full within a 30-day deadline.
What is Hoist Finance?
Hoist Finance is the parent company, of which Robinson Way is a subsidiary. It has a strong pan-European presence working mainly as a debt restructuring partner for banks and finance companies.
Where does Hoist Finance operate?
Hoist has operations in the following companies:
Belgium
France
Germany
Greece
Italy
The Netherlands
Poland
Spain
Sweden
UK
Due to its presence in multiple countries, you can read the Hoist website in many local languages, including English and French.
Hoist Finance AB comes under the regulation of the Swedish Financial Supervisory Authority. It owns a deposit business called Hoistspar in Sweden whose clients own around 85,000 active accounts.
What company is Robinson Way? What is Robinson Way?
Robinson Way Limited are a debt collection company based in Manchester UK. Robinsons Way offer both debt purchase and debt collecting services.
LOOKING FOR HELP?
Get debt help with Robinson Way Debt Collectors now!