What is an IVA?
With an Individual Voluntary Arrangement (IVA) you can make affordable monthly payments towards a percentage of your debt for 5 years. At the end of the 5 year plan, your remaining debt will be completely written off.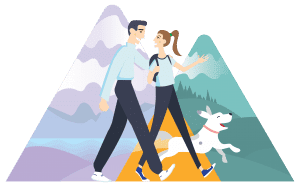 Benefits of an IVA
You will only be asked to pay back what you can afford, with allowances taken into account for food, bills, entertainment, travel, childcare and others.
There are no upfront costs with an IVA
You will be completely debt free within 5 years
An IVA is not advertised in the London Gazette or local newspaper
Your creditors will not be allowed to contact you by any means once you have entered the IVA
You will be able to stay in your home
Your pension won't be affected
Only tell your employer if you want to
Risks of an IVA
If you have a perfect credit rating, this will be damaged
If you have value in your house, you may be asked to release the equity
Your creditors may not accept your IVA proposal
If you do not keep up with your monthly repayments, there is a risk you will be made bankrupt
You will not be allowed to take out credit until your arrangement has been completed
Who qualifies for an IVA?
There is no office guidelines to who qualifies for an IVA with IVA Advice, it is a Government legislation designed to help all people. Generally speaking, insolvency practitioners (IP) will look at your situation if they think the IVA proposal they submit is beneficial to both yourself and your creditors. This often restricts people to a certain criteria which you will have to meet:
Over £4000 worth of unsecured debt
You must have 2 or more creditors of 2 or more lines of credit
Must live in England, Wales or Northern Ireland
Must be insolvent
Must be willing to pay at least £70 per month into their IVA
Must have some type of regular income
What debts can I include in an IVA?
Credit cards
Loans
Payday loans
Council tax arrears
HMRC debt
Overpaid benefits
Catalogues
Gas and electricity arrears
Overdrafts
Water arrears
Income tax arrears
Debts to friends and family
Other unsecured debts
What debts can't be included in an IVA?
Secured loans
Your mortgage (if you still live in the house)
Car finance (if you still have the car)
Rent arrears for your current property
Court fines
Hire purchase arrears (if you still have the product)
Log book loans (if you still have the vehicle that the debts are secured on)
Other secured debts
What does IVA stand for?
IVA stands for Individual Voluntary Arrangement. It is a formal way to consolidate your debts into one affordable monthly repayment.
Apply online for an IVA
Use the IVA Calculator to check your eligibility
Prepare your IVA proposal and apply for your IVA.
When your IVA is accepted, your creditors can no longer contact you. Pay 60 low monthly payments.
After 5 years, you are out of your IVA and completely debt free.
How will an IVA affect my job?
In most occupations, your credit rating or credit scoring is not a factor and it may never have been checked in the past, it may also be likely that it is not checked in the future either.
There is no law to tell you that you must advise your employer that you have entered an IVA. They will not be notified by your insolvency practitioner. If you wanted to keep it a private matter, in most cases this would be absolutely fine.
With some occupations such as financial advisors, solicitors or bank workers it may make up part of your contract to advise them of changes like this. In these situations we would advise to inform your employers of your intentions before you enter into any arrangements. This way there will be no nasty surprises for you later down the line. More often than not, we find that your employer would not be concerned by your IVA.
Will my partner be affected by my IVA?
There are certain situations where you may not want to involve your partner at all in your IVA proposal due to personal reasons. Insolvency Practitioners are very aware of these circumstances and can operate solely via telephone and email and at your convenience, so rest assured that your matters can be kept completely private.
If the debts which you are looking to place into your IVA are in joint names, then this would be different. Your IP would look to place all of your debts into an IVA, including joint debts therefore you would have to inform your partner of your plans.
If your debts are solely yours, then there would be no negative impact on your partner, their credit score would remain unaffected and they would not be entered onto any registers or be tainted in any way.
Will an IVA affect my credit file?
Whilst you are in your arrangement, you will not be able to get any credit. An IVA will stay on your credit file for 6 years, so 12 months after a typical IVA. When this time has passed you will be able to rebuild your credit rating.
What proof do you need to apply for an IVA?
Proof of ID – Passport/driving license/birth certificate/utility bills
Bank statements – 3 months bank statements with all transactions displayed
Proof of income – 3 months payslips/P60/proof of benefits
How long does an IVA take to set up?
Your initial call will only last around 5-10 minutes. The IVA process will be explained to you and you will be told what further information you will need to provide to proceed with your IVA proposal. Once you have returned the required information, an IVA will usually take between 7-14 days to get into place. You will be protected from creditors within this time, your advisor will provide you with documentation via email.